Innovative Approach
We combine best practices from individualized learning, social-emotional learning, and project-based learning.
Tailored Design
Educators with passion equipped with the right tools, like digital curriculum, can deliver education that is tailored to each student's learning style and pace.
Whole-Person Growth
Students develop real-life success skills like communication, self-awareness, collaboration, and decision-making. Skills that will instill confidence for any learning environment.
Education Personalized At Every Level
Early Childhood Center
Age 2 – Junior Kindergarten
For early childhood, we offer a distinctive program where classrooms are filled with beauty, students' minds and hands are challenged to think and explore, and teachers radiate love for their students and Jesus.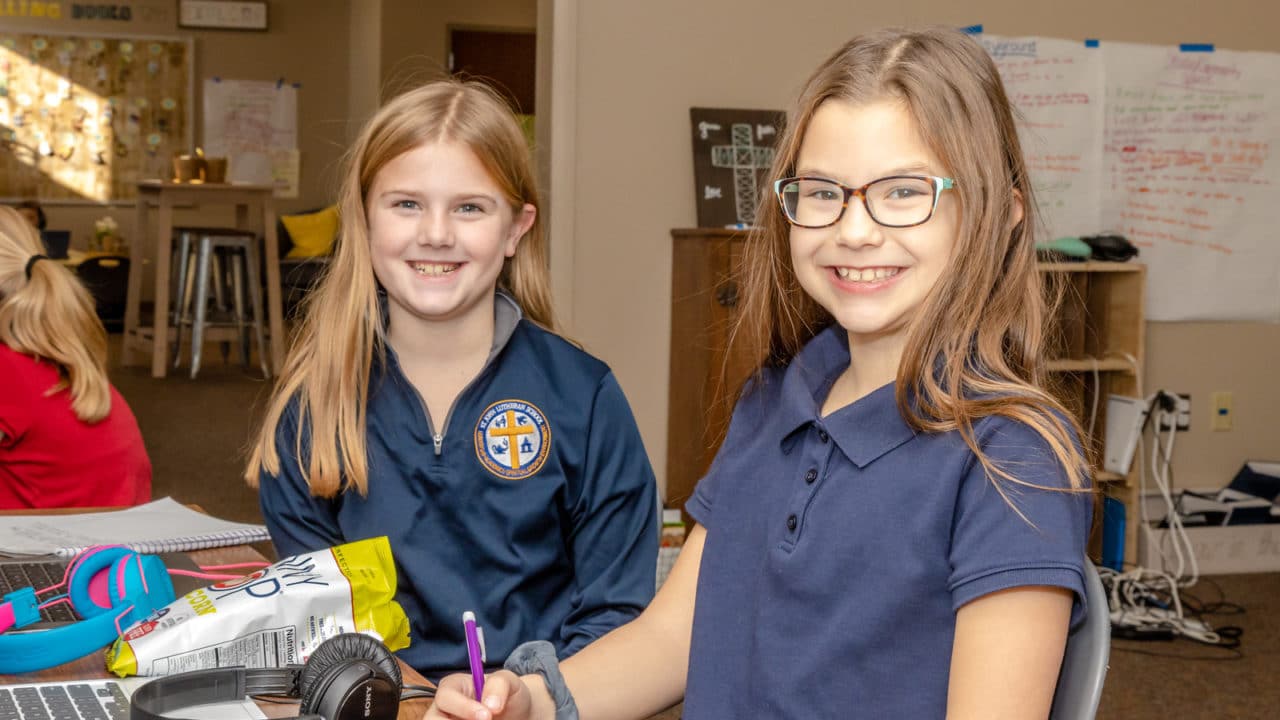 St. John School
Kindergarten – 8th Grade
Using a balance of project-based learning, digital curriculum, and interactive environments our educators can tailor learning to each student's ability, pace, and learning style. Students are empowered to go further into areas of passion and skill.
Tell me and I forget, teach me and I may remember, involve me and I learn.
Benjamin Franklin
Unstoppable School Families
We are so thankful our kids were in a school positioned to make this transition so easy! Not that teaching 3 kids at home plus a toddler is "easy" but with the tools our kids were already using at St. John School, it's like they haven't missed a step.

Allison & John B.
St. John School Parents
We are so grateful to be a part of a forward-thinking school that prepared our kids for this stay-at-home order with their personalized learning approach!
Lindsey & Jeremy J.
St. John School Parents
The teachers are so involved, they teach them as if they are their own children. Always showing love and kindness. And their learning platform is top notch, ahead of times compared to what other schools are using. This is a sophisticated, personal learning approach that helps create success with your child.
Anne and Jon B.
St. John School Parents
Unstoppable St. Louis
Innovation is unstoppable and the City of St. Louis is delivering.
Here are a few innovations in community building that we've loved seeing so far!
Make a nomination!
Hope Can't Be Stopped
From the frontlines to the homefront, St. Louis displays its true spirit in its resilience.
We've seen students, parents, and the City of St. Louis rise up in the midst of uncertainty. At this time, we want to celebrate the good we've seen across St. Louis and be a resource however possible for families who are navigating our new normal.
No one knows when and if we can return to "normal" again. At the same time, we recognize that education is in the midst of a revolution. With information at our fingertips, the future of education is under development. Our desire, at St. John School, is to see the next generation equipped with real-life success skills like confidence and collaboration, self-directing, and owning their education. Equipped with real-life success skills, the next generation will be unstoppable.
Nominate an individual or an organization who is Unstoppable!
Be Unstoppable
We'd love to connect with you online and help answer any questions you may have about education at St. John School.
DOWNLOAD 8 TIPS FOR AT-HOME LEARNING