Equip Your Child with Confidence for the Path Ahead
Our innovative approach equips learners with confidence and real-life success skills. We personalize learning for students because we know there is a better way forward than one-size-fits-all education.
Innovative Approach
Unique Learning Environments
Learning is not a one-size-fits-all endeavor. That's why we've designed an approach that combines educational best practices and current research. Our tests scores show it's working.
Tailored Design
Personalized Learning
Digital curriculum is paced by a student's ability, pace, and learning style. Students have autonomy in their daily schedule and receive personal attention due to low teacher/student ratios.
Whole-Person Growth
Growth Beyond Academics
Your child will develop real-life success skills like communication, self-awareness, and decision-making. Students grow academically, socially, interpersonally, and spiritually.
Education Personalized At Every Level
STJ Early Childhood Center
2yrs – Jr. Kdg.
For early childhood, we offer a distinctive program where classrooms are filled with beauty, students' minds and hands are challenged to think and explore, and teachers radiate love for their students and Jesus.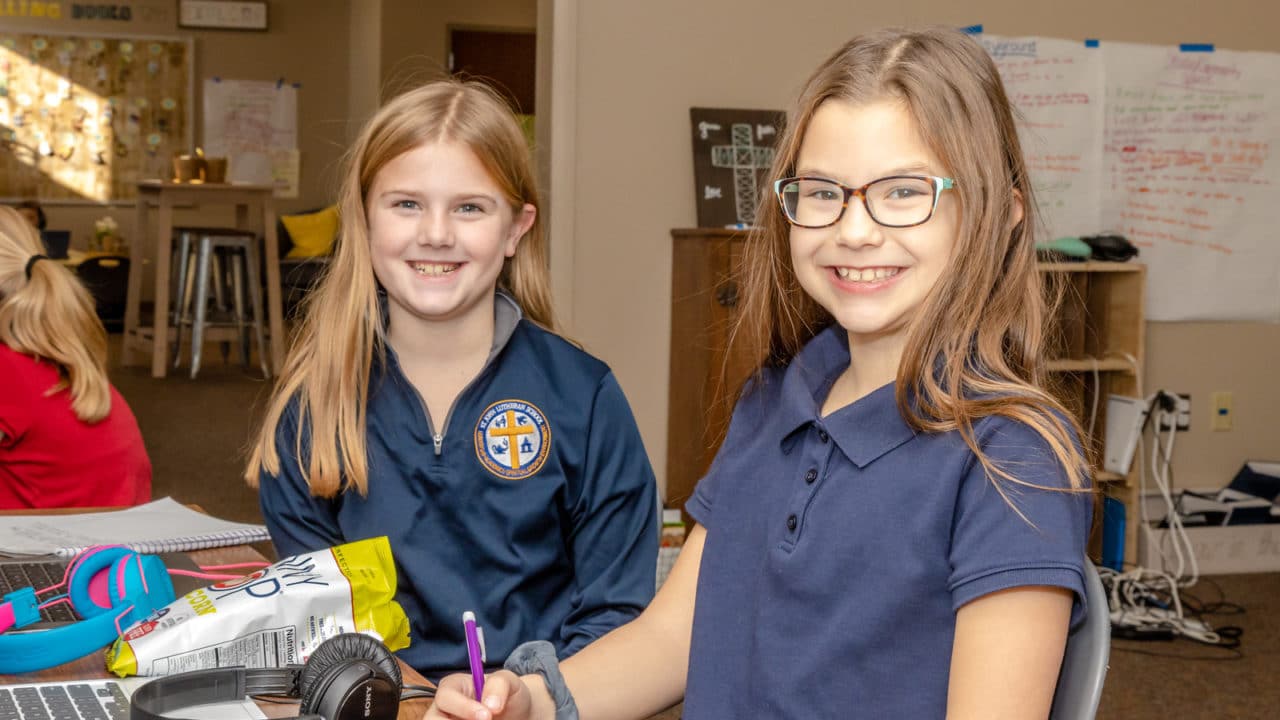 St. John School
Kindergarten – 8th Grade
Using a balance of project-based learning, digital curriculum, and interactive environments our educators can tailor learning to each student's ability, pace, and learning style. Students are empowered to go further into areas of passion and skill.
How We're Different
We care about more than academics alone.
We care about whole-person growth.
Work is completed during school hours, giving time back to your family.
Plenty of outdoor and playtime gives students balance.
Our test scores continue to move up the nationwide rankings (top 30%).
Education: Moving Forward
We know you're investing in your child's education with your time, energy, and money – no matter where your child attends. Our focus is setting students up for a lifetime of success. We've seen our students, who come from across St. Louis, excel not only in their test scores, but in their interpersonal relationships, their comfort level presenting in class and even in front of assemblies – gaining confidence in who they are every step of the way. In this innovative approach, students experience whole person growth, and continue to take strides forward on nationwide tests (we're in the top 30%). Our school is fully-accredited, meeting all state and federal standards, and we maintain our Blue Ribbon status.
Schedule a Tour
See first-hand our innovative approach and interactive classrooms.
Apply
Let's make it official and help us better understand your family and your unique story.
Set up a Shadow Day
Your child will experience St. John on a day of your choice.
Have Questions?
If you have questions about St. John School, please contact us. We can't wait to hear from you.