We equip students to be life-long learners.
At St. John Lutheran School, it is our intent to equip students to be life-long, creative, and innovative learners within the context of digital age skills and tools. As citizens of a world beyond our walls, the characteristics of life-long learning and creative and innovative thinking are key skills needed to provide students with a digital-age education. To this end, technology is our tool of choice.
While schools in our area rush to adopt a 1:1 student/device ratio, using a single technology device for the entire campus, we are confident that students can be successful learners regardless of the technology device they choose to use.
The Purpose of BYOD
Listed below are four goals that outline the benefits of moving our digital technology integration in this direction. While this is by no means an exhaustive list of benefits, they highlight some of the most important outcomes we look to achieve through the Bring Your Own Device program.
Access and increased "time on task"
As a school we recognize that students and teachers can be more focused and productive when they aren't waiting for a computer lab or laptop cart to become available. Real-time access for real-time learning opportunities.
Familiarity and Ease of Use
When students use a device with which they are familiar, both teachers and students spend less time learning a new program or interface and can be more task oriented with their time.
Responsible Use and Ownership
In general, students take better care of their own property. When a device malfunctions, students will be in charge of owning the issue and working through a solution, creating a culture of problem-solving.
Refocus School Technology Funds
With students using their own technology device for productivity purposes, St. John can focus its technology resources on high quality production hardware and instructional services.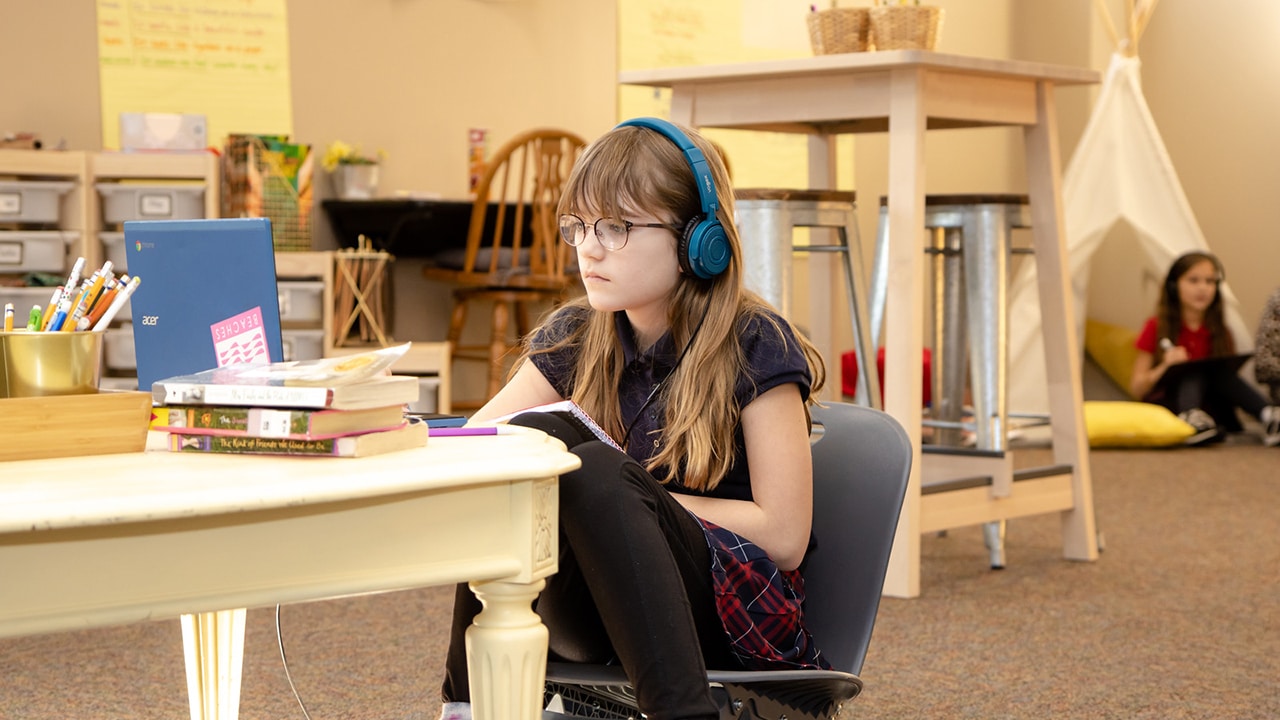 Digital Citizenship
Digital Citizenship is an over-arching "Big Idea" that we want ALL students to understand and live out. God's love for us and in turn our love for each other is not confined to the "face to face" world, but includes the online world as well. Throughout your child's time at St. John they will be engaged with topics such as digital literacy, digital etiquette, digital law, digital health and wellness, digital security, and digital commerce.***
Digital Citizenship Contracts
St. John Digital Citizenship Contracts are completed by all 5th-8th Grade students at the beginning of each school year and are kept on file with the Technology Coordinator. The contract reflects student use and expectations throughout the day.
***Digital Citizenship concepts identified and developed by Mike Ribble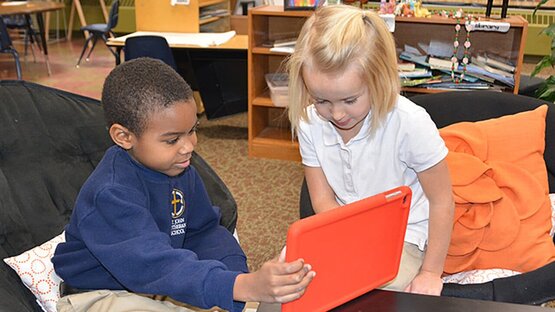 Online Student Security
One of the most important digital lessons a student can learn is how their personal information is being used online. To that extent, we strive to only partner with web services who do not send SPAM email to students, or who promise not to sell student data to a third-party.
Wherever possible, we work to limit the amount of advertising a student is exposed to during the school day as well. We encourage students to use versions of web services that are specifically designed for educational purposes and who limit student access to questionable or inappropriate content. We strive to partner with sites and services who understand the rights and responsibilities they have with regards to student data.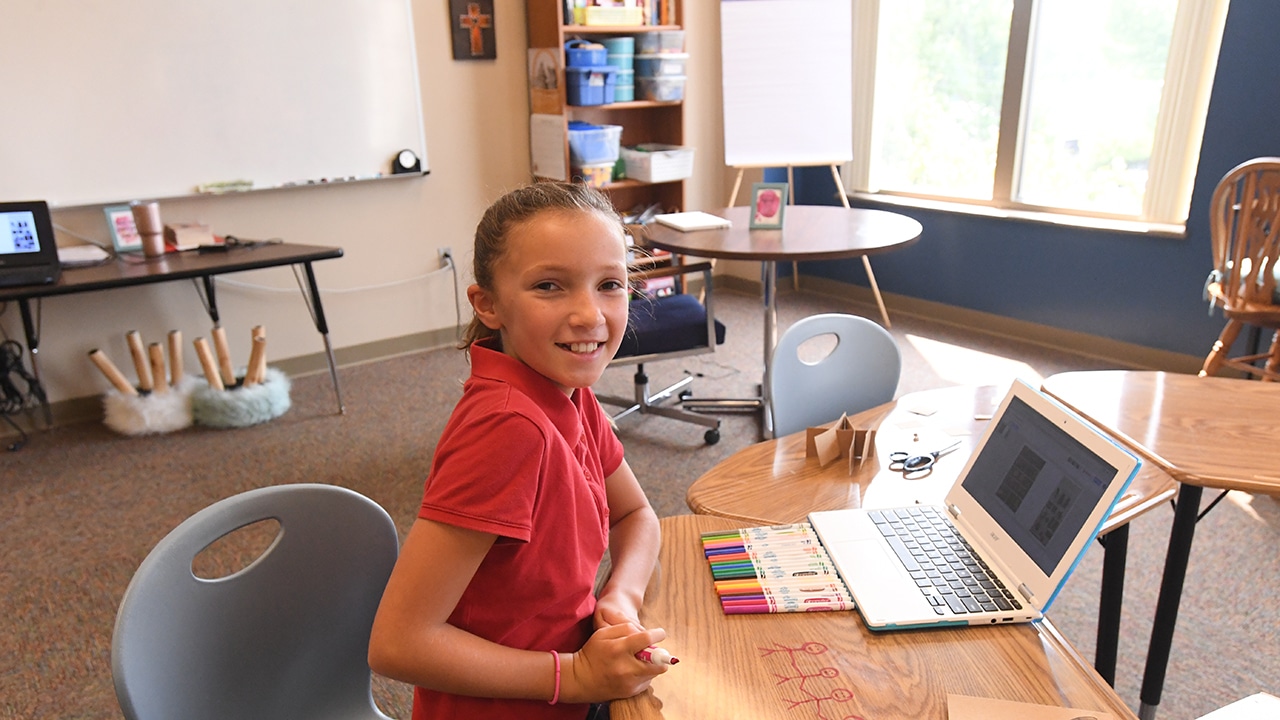 Online Student Privacy
The default sharing option for our learning community is "private" (private in this case means not indexed by Google and included in normal web searches). There are times throughout the year when we do want student work published to a wider audience.
We often hear about students using poor judgement and posting inappropriate material on the Internet, but rarely do we hear about students posting content that is important and meaningful. While we may not want ALL of our student learning to be published to the public web, it is important for our students to develop strategies for successfully utilizing the public facing web in a safe and secure manner.
Parents, we understand the importance of safety and balance.
While at school, student internet connections will be filtered through our network firewall, but only as long as they are connected to our wireless network. Students who use a device with a mobile connection (3G/LTE/4G), are accessing the Internet outside of our filtering policies. While our educational goals and instructions teach students how to navigate the Internet in safe and productive way, the content filtering provides a level of comfort when it comes to students accessing the "worst of the worst" on the web.
Appropriate Use At Home
Some families find it important to put into writing their values, standards, and expectations with regards to technology use at home. Just as students complete annual Digital Citizenship Contract here at school, parents are finding it helpful to have home agreements as well. Below are some links to several examples provided by CommonSense Media.
FAQs
If every student has their own computer, does this mean they will no longer use pencils, paper, and books?
Using technology such as laptops and electronic devices does not mean that we never use conventional tools like paper, pens, and print books. There will be times when using these traditional technologies are the most appropriate way of meeting learning goals. However, our goal in allowing students to access our network on their own devices will be to increase their Digital Age Learning skills, giving each student confidence and competence in using technology appropriately in order to assist their learning and development.
What if the computer breaks and needs to be repaired, or becomes inoperable due to software or hardware failure?
If a device breaks during the school day, students will be told to put it away and take it home at the end of the day. It is the responsibility of the parent and the student to maintain and if necessary pay to have student laptops repaired. We strongly recommend purchasing an extended warranty and possibly even student laptop insurance to protect against repair/replacement costs. The school currently has laptop computers available in the case of a "learning emergency" which students can use, but the sole responsibility for maintaining functionality is on the student and the family.
Will students be required to purchase Microsoft Office?
No. To help students learn to work online and collaboratively, we make use of cloud based tools such of Google Apps for documents and presentations. Students who need software to work on documents offline can download and install free
Open Office
. There are "offline options" for Chromebook users that students can use if Internet access is not available.
Will the school teach students how to use, maintain, and update their own computers?
St. John's teachers will be able to assist students and show them how to use web tools required for class activities and projects. While there will be times where they may also have time to assist our students in providing some tips and direction in the maintenance and updating of their devices, the ultimate responsibility will rest with the student and their parents/guardians. Support from a local retailer at the student's cost may be necessary for support with software installation, virus protection software or repairs/upgrades.
Will students be required to go online at home?
Many of the tools and resources used at school are "online" resources which require an Internet connection in order to work. Students who are unable to get online at home may have to come to school early or stay late in order to get their work done. We strongly recommend a home Internet connection. Here are some of the online tools students need to access away from school: St. John's Google Apps, Online Textbooks or learning resources, Discovery Education, St. John School web site, to name a few.
Will student computers be monitored while on campus?
Each device used on our network must be registered with our information technology team. At the beginning of the year, students will provide their devices MAC Address (network identification address) so it can be identified on our school wireless network. We have the ability to generate reports identifying which devices have attempted to access blocked material, as well as see which websites have been most visited by our student body.
What if the battery runs out during school?
Students are required to have their devices fully charged for the start of each school day. A student that comes to school with a dead battery is just as unprepared as a student who forgets their book or their pen or pencil.
Student devices will be required to have an expected battery life of 6 hours or more. For most students this will be enough to get them through the school day. If a student's device is critically low on power they may charge them during non-use times (lunch, recess, etc.). Our goal is to create a learning environment free of cords which might cause a safety hazard or disrupt the flow of class.
What about printing?
Student laptops will not be able to access printers at school. In most cases, homework will be "handed in" digitally, thus not needing to be printed. If a project requires printing, then it must be done on your home printer or shared/emailed to the appropriate individuals on campus with the ability to print. In some cases, if a home printer is not working, it may be acceptable to send the document to the teacher for printing.
Can we purchase an iPad instead of a laptop?
While the best user experience for most of the school's web-based services is the laptop, many students have found the iPad, or comparable tablet device, to be very useful. Not all digital devices are the same and nor do they all have the same ability to access ALL of the various types of content on the Internet. Currently, there are several online tools and activities students may be expected to use at school that will not work on an iPad. Students may be expected to access online textbooks, resources, or other web tools (like Glogster & Prezi), which require Adobe Flash. Currently, Flash is not supported on the iPad. Our St. John Google Apps require a full desktop version of a web browser for complete functionality and live collaboration. The iPad only supports a limited "mobile" version of Google Apps. This may change in the future, but for now an iPad will need additional apps to fully support the student learning experience here at St. John.
Still have questions?
Want more information or have questions about the device your student should bring? Contact us.